Visitors recognition motivates us to keep moving forward!
CERAMICS CHINA, the global flagship event for the ceramic equipment and materials industry, will welcome its 38th edition on June 25 ~ 28th, 2024 at PWTC Expo, Pazhou, Guangzhou, establishing an important platform for technical exchanges and business cooperation for the global ceramic industry.
The last edition received a total of 60,360 visitors, of which visitors from mainland China account for 88.96%; visitors from Hong Kong, Macau and Taiwan account for 1.84%. Overseas visitors account for 9.2%, coming from 60 countries. The top 10 countries are India, Vietnam, Indonesia, Russia, Bangladesh, Thailand, Malaysia, Iran, Turkey, and Belarus.
Leaders from Dongpeng, Hualian, Huapeng, Monalisa, Dongyuan Eagle, Marco Polo, ARROW, HEGII, Fengzhuo, Baofeng and other ceramic products companies all spoke highly of the previous exhibition and gave objective feedback. Meanwhile, they also expressed their best wishes for the successful hosting of CERAMICS CHINA 2024.
1. HE Xinming, President, Guangdong Dongpeng Holdings Co., Ltd.: I am very happy to again receive the invitation from the organizer for the Opening Ceremony and forum activities, and also glad to visit many stands of equipment and materials suppliers. The products that impressed me deeply are: the full body feeding equipment of SAPFIT which can not only achieve the through-body feeding and the top layer 0.5mm ultra-thin feeding and be combined with the inkjet bleed technology, but also solve the problem of unsatisfactory color presentation of inkjet bleeding with the realization of digital pulping; the dry granules for blanks of Zhongguan PIGMENT; the high-white ball clay, washed mud and other high-quality raw materials of Keyou, and so on....... The exhibiting scale of CERAMICS CHINA is very big with various exhibit categories covering raw materials, equipment and finishing process, which offers very good options for visitors.
2.XU Junqi, President, Hunan Hualian China Industry Co., Ltd.: It was a great and fruitful visit to CERAMICS CHINA as it displayed the latest technology, equipment, and processes from the ceramic industry. We have noticed that there are many new processes, new technology and new equipment on show, such as hydrogen kiln, intelligent equipment, etc. I sincerely hope that CERAMICS CHINA will be better and better. We will definitely organize a visiting delegation next year.
3. XU Kangwen, President, Pingxiang Huapeng Electric Ceramic Group Co., Ltd.: Over the years, we always supported CERAMICS CHINA. We obtained a lot differently in every visit. We are very satisfied with this year as it is really beyond our expectations. This edition is of a bigger scale in that there are many raw materials suppliers which we have even not finished visiting all the halls in two days, as we stayed much time for every supplier. We have reached a cooperation agreement with CHINALCO New Materials Company and a raw material company on site, and other matters are still under negotiation. However, there are not many intelligent equipment exhibited this year, and we hope that the organizer will invite more intelligent equipment companies to participate next year.
4. QIN Zengcheng, Vice Manager of the R&D Product Department of Monalisa Group Co., Ltd.: This year CERAMICS CHINA focuses a lot on the green low-carbon development of the ceramic industry which is really beneficial for the healthy development of the sector. With the diversification of equipment exhibitors, it is certainly convenient for industry stakeholders to know the development trend of the entire ceramic production process. The glaze technology and techniques from several color and glaze suppliers are greatly in line with the current trend and market demands. For example, Kehai Company has exhibited a series of textured matte glazes with superior quality. During the exhibition, there were also different forum activities available during the exhibition, allowing us to learn various knowledge. I hope the exhibition will be better and better and attract more companies with a more comprehensive range of products to participate.
5. CHENG Guisheng, Vice Production Manager, Heyuan Dongyuan Eagle Brand Ceramics Co., Ltd.: In this exhibition, many new equipment, new materials, and new processes for energy saving & carbon reduction and cost efficiency are displayed, offering energy-saving and new energy solutions for the ceramic industry, and also providing a strong guarantee for the green, low-carbon, energy-saving and efficient development of the industry. There are many products that we are interested in, such as JUMPER Intelligent Double Layer Roller Kiln, HOPE Powder Iron Removal System, AI Ceramic Tile Color Difference Defect Detection Equipment, Automatic Conversion Specification Packaging Machine, etc. The organizer arranged very considerate services for us including shuttle transportation, lunch coupon and rescue vehicles.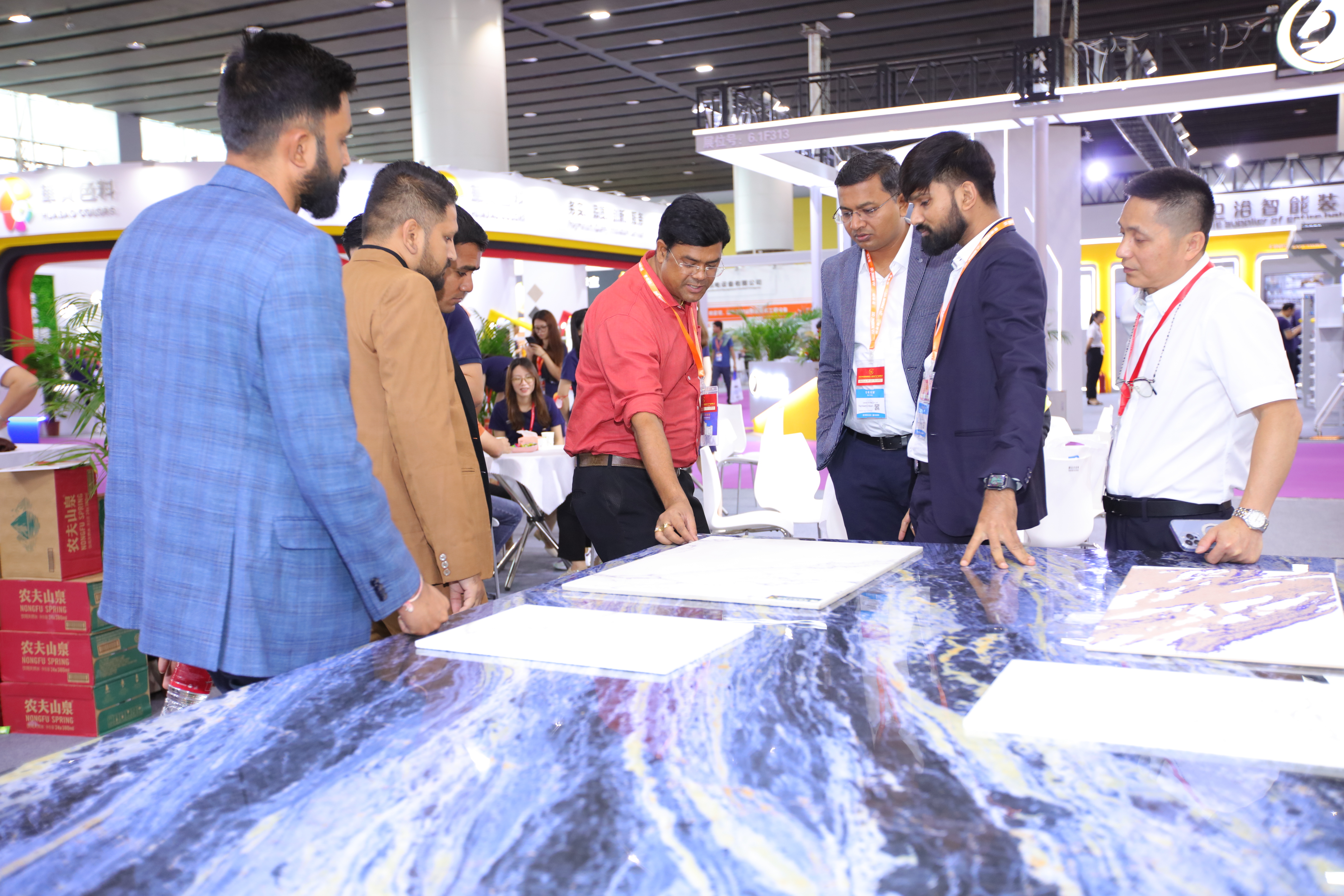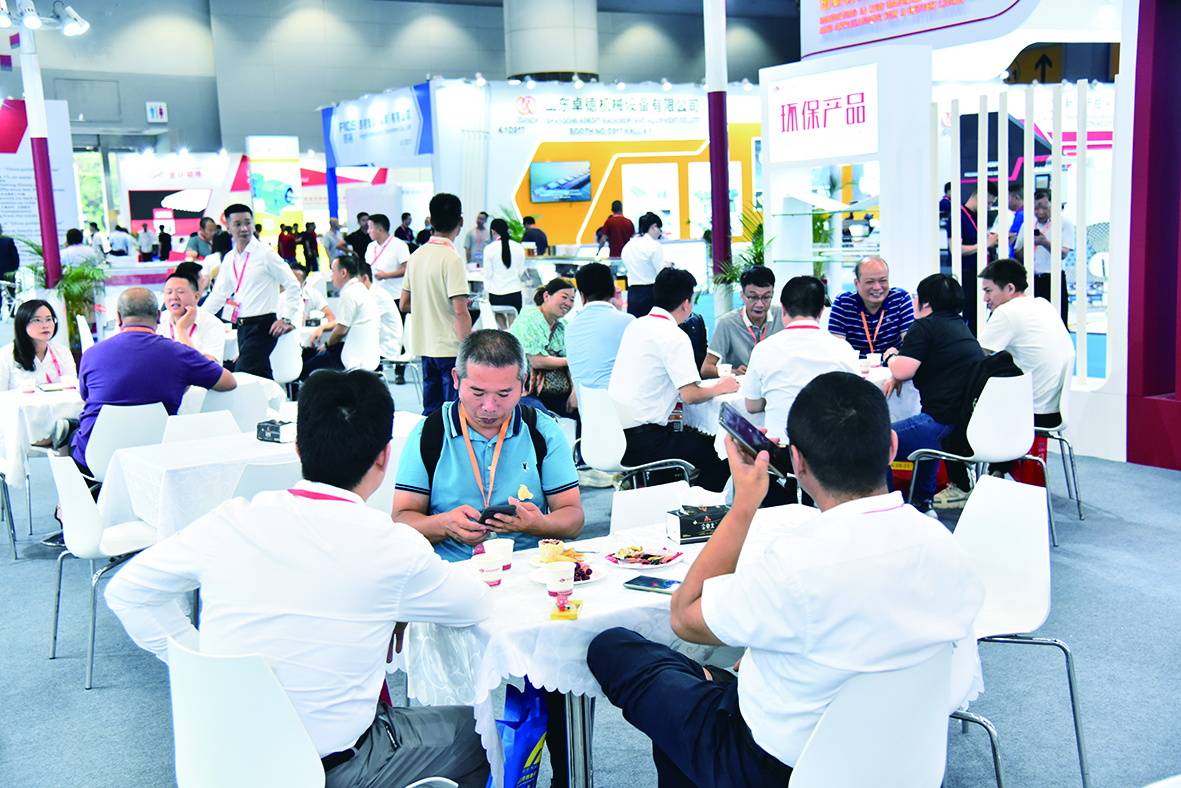 6. LU Jinkui, Assistant to Director, Guangdong Marco Polo Ceramics Co., Ltd.: The exhibition is very crowded with many new technologies and products. We have summarized all the product highlights into a PPT file which indicates all the highlights, for example, SINID has achieved the mechanical automatic adjustment for its automatic packaging lines to convert specifications, which indeed reduces the labor intensity and increases the conversion efficiency; the synchronous wheels of Fengli is of excellent appearance, material and quality, as well as long service life; silicon carbide pendant can be customized for different hanging methods; customizable irregular casing, aluminum oxide sizing roller, and six axis robot palletizing machine… We are very thankful for the invitation and hospitality of the organizer. We are satisfied with CERAMICS CHINA this year.
7. TAN Zhijin, Factory Director, ARROW Home Group Co., Ltd.: CERAMICS CHINA gathers global leading new technology, new processes, new materials, and new equipment for ceramic production. Every year, our company will organize our visiting delegation of production, R&D, and procurement to visit the exhibition. The exhibits on display cover a full variety of products with more machines and equipment than those of the last edition. Our team is satisfied with the general participation at CERAMICS CHINA. The procurement department suggests that the organizer can enrich the exhibition with foreign intelligent technology equipment and robots next year.
8. LIN Xuxin, Equipment Manager of HEGII Sanitary Wares: We are relatively interested in automatic equipment, such as the high voltage equipment of Hexiang and Jinma, Qianrun's automatic line body, Rodar's transmission integrated motor, etc., and we are currently considering the cooperation. What attracted me the most at the exhibition was digital process control, which collects key data in the ceramic production process in real time through sensors and monitoring systems, enabling the ceramic production line to achieve a higher degree of automation. CERAMICS CHINA 2023 gathers leading enterprises and excellent suppliers from around the world, and each edition brings us fruitful and beneficial results.
9. ZHAO Tianli, General Manager, Tianjin Fengzhuo Ceramic Products Co., Ltd.: We are a modern company producing ceramic vials for medical solids and liquids with an annual production capacity of 200 million vials. The production requirements of medical ceramic bottles are higher than those of traditional ceramics, and the quality and performance of medical ceramic bottles can be improved to meet the higher demands of the medical field through technical optimization and process control in material selection, ceramic preparation and sintering. Participating in this exhibition is very rewarding. We not only saw a variety of new equipment and new technologies on-site but also signed contracts with the preferred equipment and material suppliers..
10. HUANG Wenbin, President, Guangdong Baofeng Ceramics Technology Development Co., Ltd.: The companies that we (Dapu County Ceramic Industry Association) visited this year are all local leading enterprises in ceramic tableware. The number of ceramic tableware equipment and materials companies has increased significantly compared to previous years, and each company's products are quite good. Our member companies have basically found interested partners and achieved satisfactory results.
Gathering global innovation strength, and empowering high-quality development of the ceramics industry -- CERAMICS CHINA 2024 will be grandly held from June 25-28, 2024 at PWTC Expo, Pazhou, Guangzhou. Come and witness the new glory of the ceramic industry!
Contact:
Unifair Exhibition Service Co., Ltd.
Tel:86-020-8327 6369 / 6389
Email:ceramicschina@unifair.com
Web:www.ceramicschina.com.cn