CERAMICS CHINA 2024 Scheduled for June 25-28
Annual Trade Pageant for Global Ceramics Stakeholders
CERAMICS CHINA, the global flagship event for the ceramic equipment and materials industry, will welcome its 38th edition on June 25th ~ 28th, 2024 at PWTC Expo, Pazhou, Guangzhou. Gathering global elite companies and industrial excellencies, CERAMICS CHINA shares the best business opportunities of broader cooperation for future prospects.
As the important platform of technological exchange and trade cooperation for the global ceramics industry, CERAMICS CHINA has been gathering new technology, new materials, new processes, new equipment, including products of full production chains, assembling leading innovations, advanced concepts and operation wisdom, so as to offer the comprehensive All-in-One service for exhibitors, buyers and visitors.
Historical exhibitors of CERAMICS CHINA are from 30 countries and regions including China, Italy, Spain, Germany, the UK, France, USA, Japan, Korea, India, etc. Local visitors cover over 300 cities in mainland, Hong Kong, Macau and Taiwan, while foreign visitors are from more than 80 countries including India, Korea, Malaysia, Thailand, Vietnam, Iran, Indonesia, Bangladesh, Russia, Turkey, Egypt, Morocco, Brazil, Argentina, Mexico, etc.
Gathering with Global Innovations
Nearly a thousand excellent suppliers of equipment and materials from home and abroad will gather again in the 38th edition of CERAMICS CHINA 2024 on June 25th ~ 28th, 2024, to display their high-quality products, leading technologies and solutions including production / finishing equipment, raw materials, decorative materials, refractories, grinding materials, spare parts, moulds, tools, design services, etc., for producers from building ceramics, sanitaryware, tableware, artistic ceramics and industrial ceramics.
On this occasion, global ceramic stakeholders will focus on ——
• Intelligent Production Line
• IIoT System
• Soft Manufacturing System
• Industrial Robotics
• AI Visual Technology
• Smart Storage System & Solutions
• Smart Logistic Technology & Turn-key Solutions
• Digital Plant Turn-key Solutions
• New Generation Hydrogen Hybrid Combustion Technology
• Electric Roller Kiln Combustion Technology
• Microwave Drying Technology
• Desulphurization, Denitration and Dedusting Technology
• Multiple Pollutants Collaborative Governance Technology
• Low-Temperature Waste Heat Recycling Technology
• Solid Waste Resource Utilization Technology
• High-Quality Raw Materials
• Functional Materials
• New Colors and Glazes
• New Generation Ceramic Decorative Technology
• Deep Processing, Tiling and Product Delivery
Reveal from Last Edition
Analysis of Exhibitors
CERAMICS CHINA 2023 gathers a total of 682 exhibitors from 16 countries and regions, including mainland China, Italy, Germany, Spain, the United States, France, the United Kingdom, Australia, Korea, Japan, Russia, India, Indonesia, Turkey, Hong Kong, and Taiwan. Among them, there are 310 companies of machine and spare parts, accounting for 45%; 218 of raw materials and decorative materials, accounting for 32%; 126 of refractories and abrasives, accounting for 19%; and 28 of others, accounting for 4%.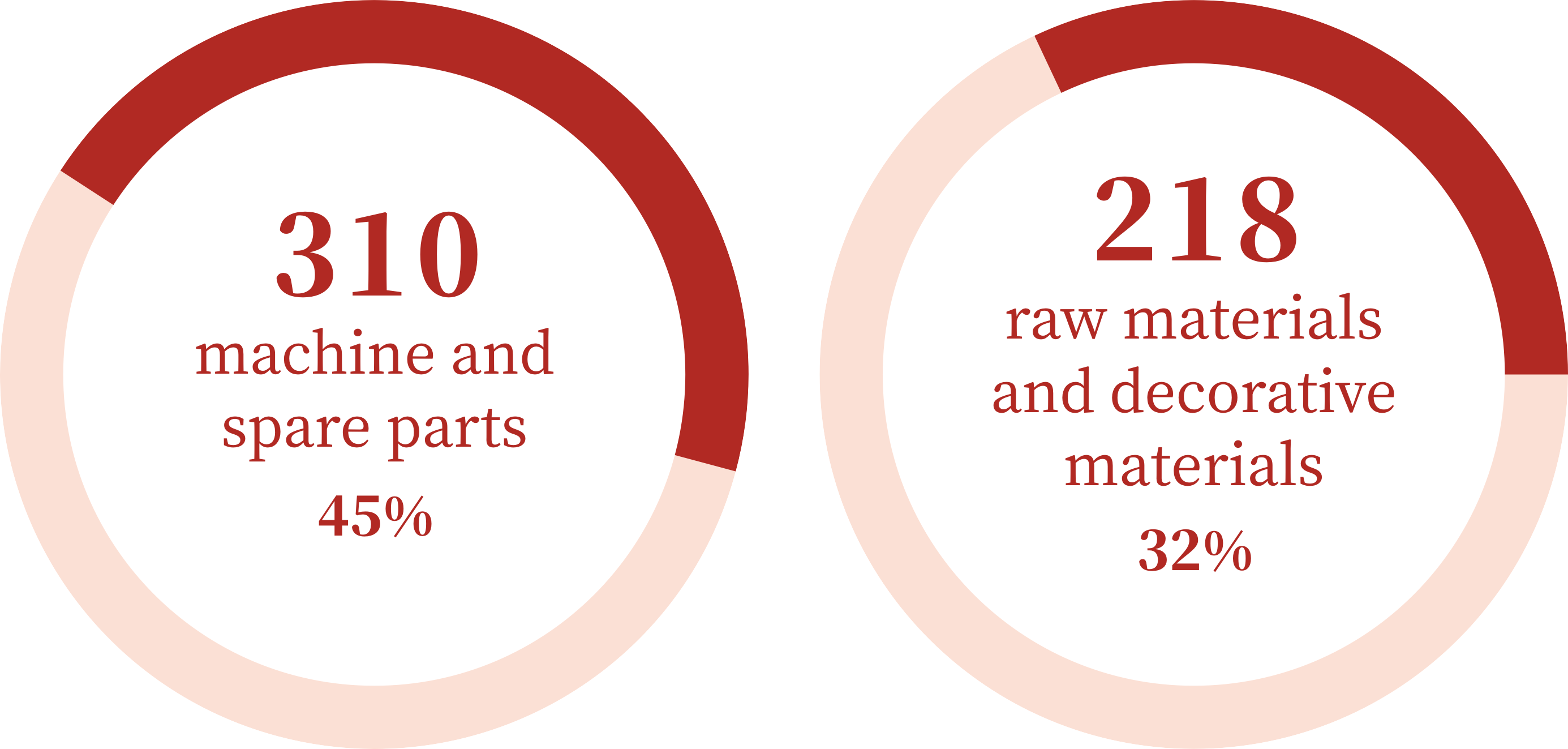 Analysis of Visitors
Last edition received total 60,360 visitors, in which visitors from mainland China account for 88.96%; visitors from Hong Kong, Macau and Taiwan account for 1.84%. The top 10 provinces are Guangdong, Shandong, Fujian, Jiangxi, Hunan, Henan, Hebei, Guangxi, Jiangsu, Sichuan.
Oversea visitors account for 9.2%, coming from 60 countries. The top 10 countries are India, Vietnam, Indonesia, Russia, Bangladesh, Thailand, Malaysia, Iran, Turkey, Belarus.

A Professional and Stable Team to Secure the Best Exhibition for You
UNIFAIR abounds in the experience of more than 30 years in organizing exhibitions for the ceramics industry. We have a professional and stable team, most of whom have been working for CERAMICS CHINA for over 20 years, which has been the strongest guarantee for the quality and success of the exhibition in terms of exhibition innovations, services and customer relationships, and promotional networking.
Contact:
Unifair Exhibition Service Co Ltd
Tel: +86 020-8327 6369 / 6389
Email: ceramicschina@unifair.com
Web: www.ceramicschina.com.cn