Related content
The 35th China International Exhibition for Ceramics Technology, Equipment and Products (CERAMICS CHINA 2021) was successfully held in Canton Fair Complex, Guangzhou from July 27th to 30th. This top brand pageant in the world's ceramic industry has an exhibition area of 78,000 sq.m and converges 603 exhibitors from over 10 countries and regions. With the visiting person-time of 68,167, visitors are from over 16 countries and regions.

The effect of this participation is in our expectation as it's never an easy thing for exhibition during the epidemic. The ceramics industry highly acknowledges the professionalism and service of UNIFAIR Exhibition. CERAMICS CHINA really deserves as the professional event of ceramics equipment and materials. During the Opening Ceremony, our company has the honor to receive two special awards. We would like to express our sincere gratitude to the organizer for the great attention and acknowledgement.

The exhibition can relatively meet our expectation which we have now in discussion of some intended equipment and materials. Due to the pandemic situation, unfortunately the number of international exhibitors has reduced to some extents.
Strong Attention of Production & Processing Technology of Sintered Stone & Slab, National Trend Becomes the Top Popularity
Sintered Stone, with its wide application sectors and huge market space, has attracted many processing equipment suppliers of ceramic, stone, glass and slabs to transform from their original business. Tile business in the first 30 years and slab business in the next 30 years, which is now the real reflection of the industry. From the first ceramic slab in the year of 2007 in China, to the current popular trend in the industry of "no slab, no big brand; no sintered stone, no visits", the future R&D direction of sintered stone processing will be moving towards high performance, multi-function (anti-bacterial, transparent, far-infrared), thermal processing, composite (super-thin), establishment of finished product standards, etc. Accordingly, sintered stone related equipment became the focus and highlight of the exhibition. "High-speed Railway Era" roller kiln from Jumper effectively offers solutions of slab cuttings. INFINITY Series Double-layer Kiln from Modena satisfies the flexibility requirements of sintered stone. Exhibitors such as Nade, Gongkee, Veegoo, Yongtao, Huashili, Hanlian, Huitao, Maosheng, Fengzhi, Shengbang, Shengda, displayed a full range of finishing equipment and solutions for sintered stone, including polishing, grinding, cutting, drilling, chamfering, bonding and so on.
Driven by New Generation of IT, Automated/Intelligent Production Getting Matured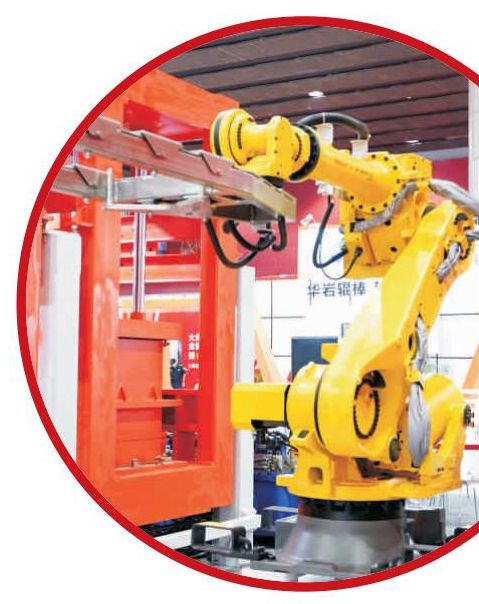 From raw material weighing, powder preparation, glaze line operation, tile picking at the kiln, to sorting, packaging, stacking, handling, warehousing and shipping... Every station in the ceramic industry is moving towards a higher level with the development of a new generation of IT such as 5G, AI and big data, and is gradually getting rid of its dependence on manual labor. More and more intelligent and automatic equipment release the production process from heavy and mechanical manual labor. Smart equipment enterprises such as Sacmi, Eding, Sinid, Domec, Dinovor, Ruibo, Lanke, Hexiang, Huibo Robotics, Jinma Leading, Qianrun, Xinxinxiangrong and Nachuan have showcased the popular AGV stacking robot, glazing robot, polishing robot, bathroom production line robot, high-press forming machine, driverless forklift, intelligent after-kiln storage and distribution system, Intelligent packing machine, which have closely connected with all processing steps of ceramic production and included to a central control room for centralized monitoring and processing, so as to truly open the intelligent manufacturing mode of less labors.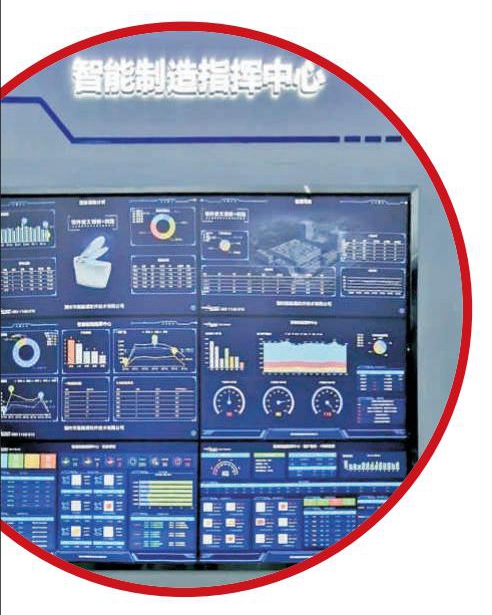 Established Factories of Digital Technology + Scientific Management, Realized Huge Data Analysis
The production of ceramic industry has many processes, strong continuity, numerous and complex equipment. A large number of offline data are generated during the production, and the data are relatively isolated, resulting in problems such as opaque production process, untimely production information feedback and uncontrollable production stability. Therefore, it is an urgent transformation measure for ceramic enterprises to change the traditional production management mode through modern technology, promote the construction of digital workshop, and innovate the management mode with information, network and digital technology. During CERAMICS CHINA 2021, many enterprises presented complete information management and intelligent manufacturing solutions for the industry, including: ceramic production ERP, sanitaryware intelligent manufacturing MES system, ceramic production line control system, ceramic data board, self-service terminal acquisition machine, ceramic management program, etc., so as to realize the control of the whole ceramic production line by industrial computer and automatic data collection control of the order progress, production performance, capacity analysis, quality management, product traceability and inventory management, so as to break through the data flow, business flow and information flow of the whole production process of raw material batching, ball milling, powdering, powder distribution, pressing & molding, glazing & inkjet, firing, polishing, grading, packaging, warehousing and delivering.
Ceramic Inkjet Technology Never Stop its Progress, the Vision of Ceramic Decoration Ecosystem still Worth Expecting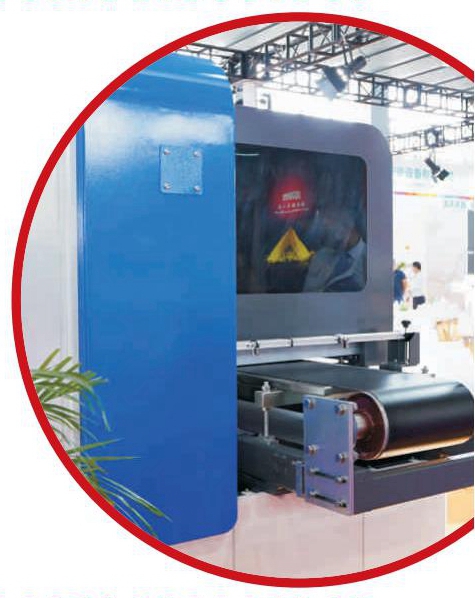 After decades' development, the digital inkjet technology of ceramic decoration has become more and more mature. At the same time, the development of various superimposed decoration technology on the ceramic tile surface has continuously enriched and improved the printing and glazing equipment. After years of practice, the industry finally reached common understanding that the series superposition of three machines is the best standard to improve the surface decoration effect of ceramic tiles. The heads of leading inkjet equipment enterprises globally, such as Sacmi, EFI Cretaprint, Hopetech, Meijia, New King Time, King Tau, Air Power, Sandytech expressed that the process of multiple machines in series to complete multiple surface decoration is the trend. Provide the highest quality decoration technology, the ultimate performance and the best ink saving scheme, so as to perfectly combine the inkjet machine, ink and color management system, and enable the tile producers to accurately manage and control the ceramic decoration process.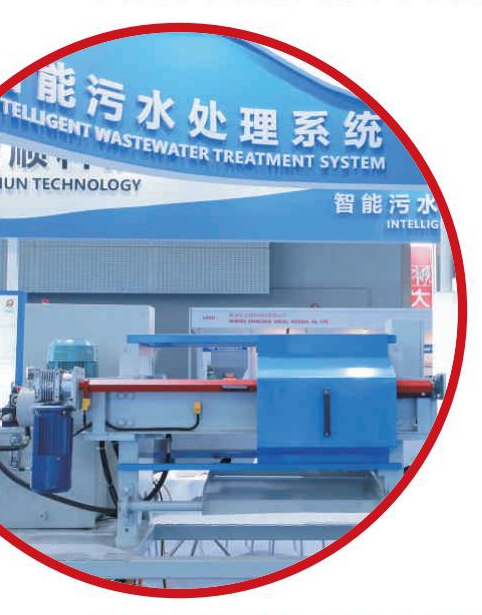 Green Technology and Sustainable Solutions Offered Purification for Environment Governance
In CERAMICS CHINA 2021, a number of excellent environmental protection enterprises such as Mosen, Oris, Clear Sky, Zhanlan, Blue Ocean, Qishun, Qichang, Hongke, Yikang, Hewei, Pulan and Ruiqi have matured in both process technology and operation management level, which is enough to help enterprises with the latest technologies and solutions for smoke pollution prevention and water pollution prevention and solutions. The enterprise carries on the fine management to the operation of the environmental protection equipment. A variety of equipment and technologies such as the strong acid high temperature needle felt filter bag, the molecular membrane dewatering machine, the BOWP high turbidity sewage purification equipment, the HL-M bag filter central dust removal system, the centralized control system, the spray drying tower smoke control combination technology, the non catalytic reduction method (SNCR) denitration technology, the lime gypsum wet desulphurization method, the dry desulphurization technology, high-pressure filter press, etc. have achieved remarkable results in green production and sustainable development.
Innovative Raw Materials and Functional Materials Running ahead of the Trend, Offered Strong Support for Ceramic Tiles
The innovation and development of building ceramics industry is inseparable from the technical drive of color glaze and ink. Throughout each iterate improvement and upgrading of ceramic tile products, as well as the advent of each new product, are closely related to the development and progress of pigment and ink. In this edition, domestic and foreign enterprises of glaze and ink, such as Zschimmer & Schwarz, Sinocera Create-Tide, China Glaze, Panson Ceramics, Jingying, Wandao, Zhongguan, Outao, Vanda and Kinwin have unveiled their annual innovations one after another. Based on the production needs of tile producers, a variety of products such as water-based digital glaze, functional ink, infiltrating ink, digital feeding, Adhesive granular, super wear-resistant cast glaze, granular suspending agent, sludge degumming agent and wrapping pigment reflect the current trend of ceramic tiles, represent the future trend of ceramic development and lead the tile industry into a new technical era. In the future, whether to provide more resource-saving and environment-friendly color glaze and ink products is an important exploration direction for ceramic upstream enterprises. Enterprises need to focus on the R&D of high-strength color materials to strengthen the advantages of ink in processing method, brightness intensity, color range, printing quality, uniformity and stability. At the same time, it is upgrading towards the direction of personalization, digitization, functionalization, standardization and greenization.